Fashion and function can walk hand in hand and Arc'teryx Veilance is a proof of this. Born from the activewear brand Arc'teryx, it has evolved and has given life to Arc'teryx Veilance, an upmarket exclusive urban outerwear brand.
Arc'teryx is a Vancouver-based high performance outdoor equipment company known for its leading innovation in climbing, skiing and alpine technologies. It was born in 1991 as Rock Solid, a small enterprise producing harnesses. It became Arc'teryx in 1998 when it evolved into a special sports apparel brand designed to offer lightweight best-performing and high-quality products. From that moment on it devoted extreme attention to technological innovation and care for functional details and materials such as waterproof zipper closures, microseam technology, radically reduced garment weights and lamination. Garments' design aesthetics have also been a key obsession since from the early days.
And since innovation and technical advancement can never stop, from fall 2009 the brand took a further step ahead that gave birth to Arc'teryx Veilance, a men's highly technical collection of urban outerwear that has maintained the same attention to top research and clean and smart design.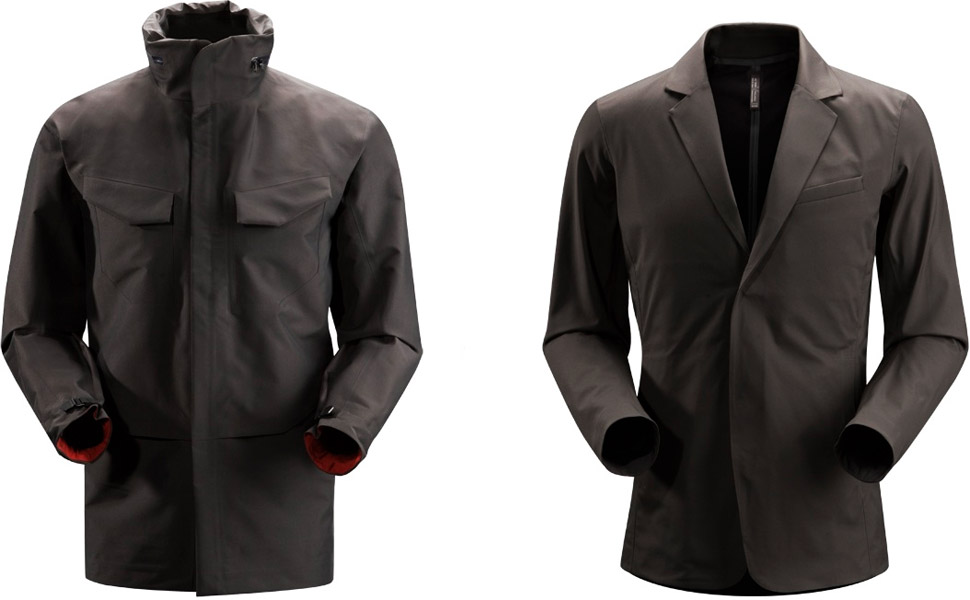 "The brand was born as an evolution from our roots. It is mainly a men's brand and it embodies our idea of the future," says Conroy Nachtigal, head designer, Arc'teryx Veilance. "We are strong on outerwear and moved from sportswear toward urban apparel always caring for jackets and items made according to a multi-layer system that integrates waterproof soft shell outers with mid-layers and ultrathin thermal linings for insulated garments that are functional though have a minimal, well-fitted exterior."
He continues: "We are hyper-focused on new sewing techniques, thermosealings, inside tapings, invisible zippers and no outside stitchings. Every garment is so clean, designed according to ergonomic silhouettes and completed on the inside by taping that almost any of them could be worn inside out." This "urban progressive" collection is designed with the idea to balance the difficulty of living in modern cities with technical tailoring yet without ignoring the brand's own heritage aesthetics.
It offers about 25 garments every season but could be considered almost seasonless because its multi-layer system guarantees that every garment could be worn almost all year long. Most of its hues are non-colors and include black, grays and anthracites. However for every season special "accents" brighten the garments with additional shades such as-for f/w 2013-14-bright yellow, blue and violet. The collection mostly includes outer jackets but it recently also launched a small selection of accessories and a few bags. Retail prices range between Euro 800 up to Euro 1,700 for jackets while a pair of gloves costs about Euro 200. The brand is sold to only about 80 high-end apparel stores worldwide and especially to Japan, Canada, Northern America and Italy (which counts for about 20 stores alone). It also has its own monobrand store in Montreal and is considering launching a women's line in about two to three years.
Arc'teryx and Arc'teryx Veilance are now owned by Amer Sports, a specialized Finnish sporting-goods company that owns internationally recognized sports and outdoor performance brands including Salomon, Wilson, Atomic, Mavic, Suunto and Precor. Amer Sports shares are listed on the NASDAQ OMX Helsinki stock exchange and closed 2012 with over Euro 2 billion in sales, +5% compared with 2011.